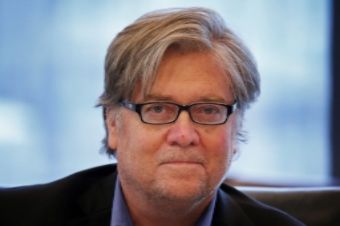 Those who read Xtrology knew that Steve Bannon was going to be in trouble. And sure enough, he was ousted from the Trump Whitehouse. However he still has his job at the website, Breitbart News. Or does he? It was reported in The Huffington Post today that a very powerful family, the Mercers, are not happy with him turning against the president. And in turn, Breitbart is considering firing him as executive chair. Well, that would spell disaster. So here's the lesson. When your energy is that bad, stand down. Sometimes you just have to shut up. And as hard as that is for Sagittarius, even the most mouthy of us can do it when necessary. Get an astrology reading. Know where you stand. Sometimes you can get away with this stuff. Sometimes you can't. Here's my post from April 14, 2017:
"With this chart, I would be afraid to (Don't Cross the Street). Seriously. Wow! There are bad charts and then there are bad charts.
Steve Bannon, Trump's right hand man, and Jared Kushner's nemesis, is a Sagittarius. That's the end of the good stuff after his Moon in Leo. His Venus/Mercury are in Scorpio and Mars is debilitated in Libra. He has no focal planets. Focal planets focus you. And no earth planets. Earth grounds you. He flies around with no real consideration for reality. He has some very bazaar philosophies that don't make much practical sense nor would it really matter to him. So you can see where he finds intermittent alignment with Trump. And you can also see where that can go very wrong.
Currently he has four predictive squares. That is a lot. I can't remember a chart like this. His predictive Mars is squaring his natal and predictive Pluto. His predictive Sun/Mercury conjunction is squaring his Saturn and his predictive Mercury is squaring his natal Venus. This is so bad, it's wicked. You would just want to find a cave and live in it. But he's not in a cave. He's in the White House! Of course. This is what has been so difficult to understand about the Trump presidency — the negativity. Normally people are put off by negativity — not drawn to it. Nothing good comes of this chart. Bannon can't help himself or his country. Maybe we'll get lucky, and he'll leave. Maybe he'll get lucky, and he'll leave. Jesus take the wheel.
For a private consultation, contact melanie@xtrology.com. And please visit Xtrology on Facebook and Twitter."
UPDATE: Bannon out at Breitbart. 1/9/18