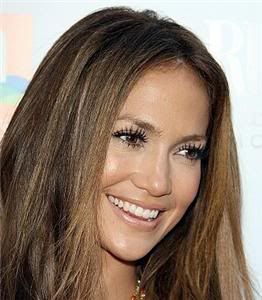 I've always liked Jennifer Lopez — as much as anyone can like a Leo — their you-know-what doesn't you-know-what. This little triple threat is getting ready to save the day for IDOL.
Simon Cowell who, as I explained in an earlier blog, calculated the planned obsolescence of AMERICAN IDOl, with his ability to influence the quality of the talent, is teetering on destruction. His progressed Sun (him) squaring Pluto (death). Therefore Simon, with all the determination he can muster, will find himself over-estimating his abilities. We may even see him become — desperate — and/or ruthless. He won't be at all happy when his master plan fails. Libra, Mars in Libra (passive/aggressive). It won't be a pretty sight. And by now you know the worst placement in a natal astrology chart, a Capricorn Moon or Moon in the 10th House (of Capricorn) or Saturn (ruler of Capricorn) conjunct the Moon which is the one that Simon has. A Sagittarius Moon, too. Speaketh the truth. Xtrology (with it's Sagittarius author) would like to say to X-Factor, get off my X!
Jennifer, it is "rumored" signed onto IDOL for $12 million, $3 million less than she wanted. In a total Leo turn, she also wanted a vanity deal with a movie thrown in. However, execs perceive her as desperate for whatever reason Hollywood makes these calls. (They're not calling me.) She isn't. Jennifer has progressed Mercury conjunct progressed Jupiter. So snap. She's the queen. We're should be hearing about this mid-September when her single comes out.
This little Leo number has her Moon in the other negative location, Scorpio. They are jealous, even vindictive, but pussy cats compared to Capricorn Moons. But you shouldn't underestimate her ability to play dirty. If she does have Libra rising, you will also never know — it's under all that charm. She's chillier than mean. With her Venus in the I-don't-trust-anyone sign of Gemini, and Mercury as one of her focal planets (where it tends to find relationships tedious), she may not be the most cuddly of stars, but she will get the job done. That diva stuff you hear about, Sun as a focal planet. And Pluto, too, (right and wrong).  Simon will find out that women can be quietly powerful. Right, Girls?
Let the singing wars begin. Xtrology predicts an IDOL victory unless X-FACTOR can bring in a person with more wow than J-Wow.
UPDATE:  September 22, 2010, Jennifer Lopez is officially an IDOL judge.