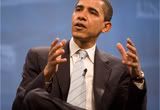 On September 1, 2010, President Obama will have a Jupiter progression, his progressed Sun moves to 0 degrees of Libra to trine his natal 0 degree Aquarius Jupiter.  What this means I don't know. Because no one knows the United States' time of birth, it's difficult to use that chart to help predict Obama's chart.
Here's what we do know:  His progressed Sun is in the 8th House of Other People's Money. His natal Jupiter is in the 12th House of All Things Hidden including hidden enemies. By the way, our president is a 6th House (Virgo) Sun so he's getting the work done. All the work in the world is done by Virgo, 6th House Sun, Virgo rising, mutable earth charts. His Moon in Gemini means he's smart and can speak very effectively. His Mars in Virgo shows that he is meticulous (could even be too much so). And his Venus in Cancer matches the Sun of The United States so that's his connection to our country. Did I mention he's a Leo? Yes, so he wants the best and only the best. And, okay, he likes the limelight, too.
His rising sign is Aquarius (humanitarian), so the Jupiter, Uranus conjunction will take place for him in the 2nd House of Money. As President, he has virtually no opportunities to make money for himself, so it would be logical, he will make money for the country.
On Wednesday, July 21st, a landmark bill was passed to create The Consumer Financial Protection Bureau. Here's what it is going to do for you effective now:
Appoint Directors
Seize and dismantle dangerous large financial institutions
Give shareholder's proxy access to nominate corporate directors.
In the next six months:
Create the Financial Stability Oversight Council
Give shareholders a non-binding vote on executive pay
Require sellers of mortgage-backed risks to retain at least 5% of the credit risk
Regulate debit card fees
In the next year:
Create The Consumer Financial Protection Bureau
Create The Office of Thrift Supervision
Regulate derivatives
Create The Office of Financial Research
Within 18 months:
Make rules to prohibit banks from using more than 3% to make trades that benefit the banks
Enforce stricter rules for required amounts of capital financial firms must keep on hand
Require shutdown plans that must be filed periodically describing how they would dissolve should they go bankrupt
Within two years:
Create simplified rules for mortgages
This could be the beginning of Obama's legacy. It's  important to each and everyone of us. So to make sure everything goes smoothly, it is time for you to get involved by voicing your opinion as to whom you would like to see run the Consumer Financial Protection Bureau. Elizabeth Warren is the front-runner now, but there are other options. Call The White House with your opinion. And take the time to have one. I've already called. (202-456-1111) This is a line reserved just for this purpose. Tell the volunteer operator your message to give President Obama. It's a truly liberating experience — to know you have the power to leave the president a message.
UPDATE:  President Obama decided to appoint Elizabeth Warren to an interim position to launch the Consumer Financial Protection Bureau on 9/17/10. This is a bold move for the president, because it bypasses a Senate confirmation battle. She will have the job of overseeing the creation of the agency. So for those of us who think President Obama hasn't had the courage of his convictions, this is HUGE.